SXSW Comedy 2012 Lineup Announced With Twice As Many Comedians As 2011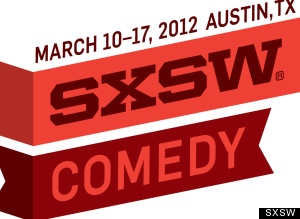 South By Southwest (SXSW) has officially announced the lineup for SXSW Comedy, which will take place from March 10 - 17 in Austin, Texas. The festival's comedy programming has grown considerably since last year, with showcases, live podcast tapings and interactive shows stretching continuously throughout SXSW for the first time. The festival has announced 62 comedians scheduled to appear, nearly doubling last year's roster of performers.
Although SXSW is known for its music, film, and more recently, interactive portions of the festival, the comedy programming looks designed to delight both devoted comedy fans as well as casual observers. In fact, five of the comedians who landed on HuffPost Comedy's favorite comedy albums of 2011 list will be performing at the festival.
Part of the fun of SXSW Comedy is not knowing which performers will show up at which shows, although a full list of confirmed comedians has been released (and can be found in full at the bottom of this post). Some of the more well-known acts include Todd Barry, Doug Benson, Mike Birbiglia, Wyatt Cenac, John Hodgman, Marc Maron, T.J. Miller, Eugene Mirman, Kevin Pollack, Amy Schumer, Paul Provenza, Kristen Schaal and Reggie Watts.